Posted:
July 16th, 2014 |
Author:
Andrew Back
|
Filed under:
Uncategorized
|
No Comments »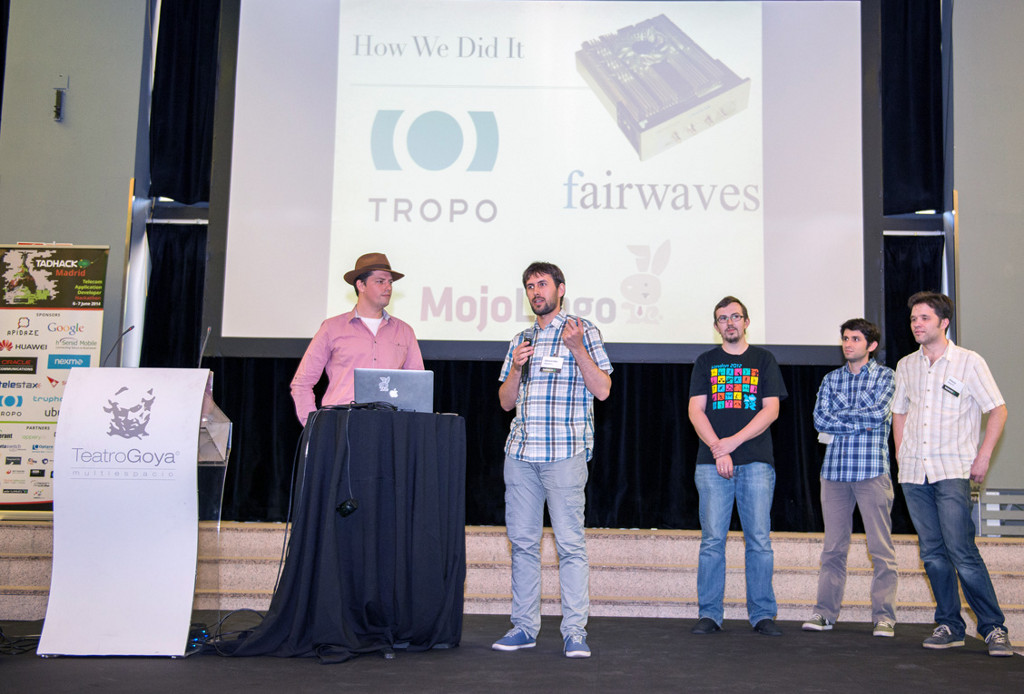 Collaboration at TADHack 2014
The Telecom Application Developer Hackathon, or TADHack for short, took place over 6-7th June in Madrid and almost the entire Fairwaves technical team were in attendance.
For the hackathon Fairwaves engineers collaborated with Ben Klang, founder of real-time communication specialists, Mojo Lingo, and Jose de Castro of Tropo, on the development of an in-network application service called FairShare Community Mobile. This aims to alleviate the problem of mobile network saturation where resources are scarce and costs may be high — such as is often the case in developing nations — through ensuring fair use of resources by managing call duration.
The collaboration resulted in a working prototype which was demonstrated live, using a UmTRX-based BTS, and which went on to win the Geeks Without Bounds Challenge Prize.
The presentation slides can be found on SlideShare and the video is below.
HOPE X, 18-20th July
Hackers On Planet Earth (HOPE) is a biennial conference that is sponsored by 2600 magazine and which covers a broad range of topics, including technology in art, communications, hacking, activism, privacy, security, politics and much more.
The conference will be taking place from this Friday until Sunday at the Hotel Pennsylvania in New York, and Alexander Chemeris, Andrey Bakhmat and Sergey Konstanbaev from Fairwaves will be present, along with Peter Bloom from Rhizomatica, who will be giving a talk on their work building community mobile networks in Mexico, and the societal benefits and legal challenges etc.
Also present from Rhizomatica will be Ciaby and Tele, who will be demonstrating how to set up a community cellular network.
If you are attending HOPE X and you're interested in cellular networks, be sure to seek out the guys from Fairwaves and Rhizomatica and say hello!
Cluecon, 4-7th August
Cluecon is an annual four day conference for telephony developers that is being hosted in Chicago. At this Alexander Chemeris will be giving a talk on the third day on the Osmocom architecture, Fairwaves UmTRX-based hardware, and how to use these together to build a small GSM network. The talk will be aimed at VoIP developers with little or no prior experience of GSM network technology, and there is likely to be a demo of something new at the Dangerous Demo contest.
Andrew
Top image: Ben Klang & Alexander Chemeris pitch FairShare at TADHack (source: tadhack.com)
---