Posted:
June 4th, 2014 |
Author:
Andrew Back
|
Filed under:
Hardware
|
1 Comment »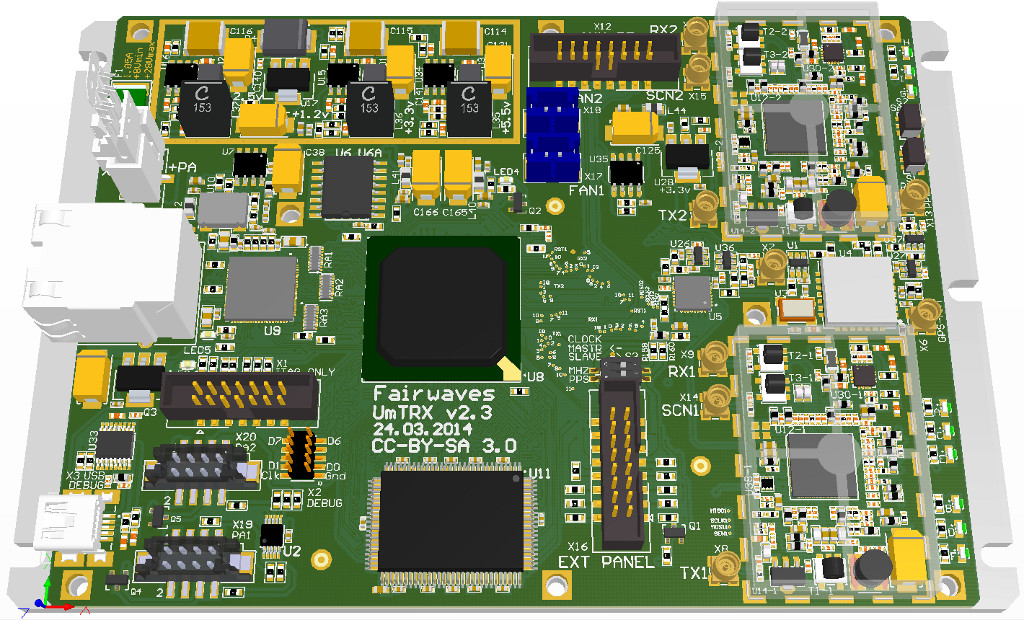 v2.2 of UmTRX has gone in to manufacture and with v2.3 to follow soon after.
The Fairwaves engineering team have been hard at work updating the UmTRX hardware platform, based on feedback from customers and experiences gained with deployments in the field. The first new update is v2.2, this has just gone into manufacture and changes from v2.1 include:
Corrected component footprint for temperature sensors
Corrected mask-to-silk warnings around T1-1, T1-2
Mounting holes more accurately aligned to 0.5mm grid and diameters increased to 3.2 mm
Added extra hole between LMS at centre line of board for better mounting to heatsink
All free space of bottom layer filled by the GND copper polygon for better heat dissipation
Add silkscreen on the vias which are under the LMS6002D ICs to make the screen stronger
Added one more screw in the middle of the board between LMS6002D ICs
MCX connectors replaced by MMCX
GND pins of SMA connectors now with thermal spokes
Resistors R103 of LMS6002D reference voltage for ADC/DAC reduced to 51 Ohm.
---