Data flow
The UmTRX high-level architecture can be seen below.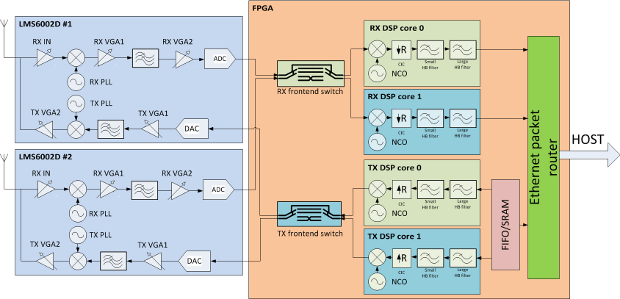 Click on the image to view a larger version of the diagram.
Peripherals and buses
Peripheral

Buses

2x LMS6002D
2x SPI
2x 12-bit parallel data Rx
2x 12-bit parallel data Tx
TCXO DAC
SPI
Flash
SPI
GPS
UART
1pps
Debug UART
UART / Mini-USB
SRAM
21-bit parallel address
36-bit parallel data
9-bit parallel control
1 GbE PHY
8-bit parallel Tx
8-bit parallel Rx
parallel control
2x GPIO (LEDs)
Temperature sensor
2x GPIO (FAN_ON and OVERHEAT signals)
Buttons
1x GPIO (SAFE)
FPGA RESET
LEDs
5x GPIO
FPGA DONE
Debug FPGA connector
32-bit parallel bus
Mezzanine connector
7x GPIO
Stacking
Multiple boards can be stacked using a standard gigabit Ethernet switch, with the option of sharing a common — onboard GPS synchronized — or external clock source.
---