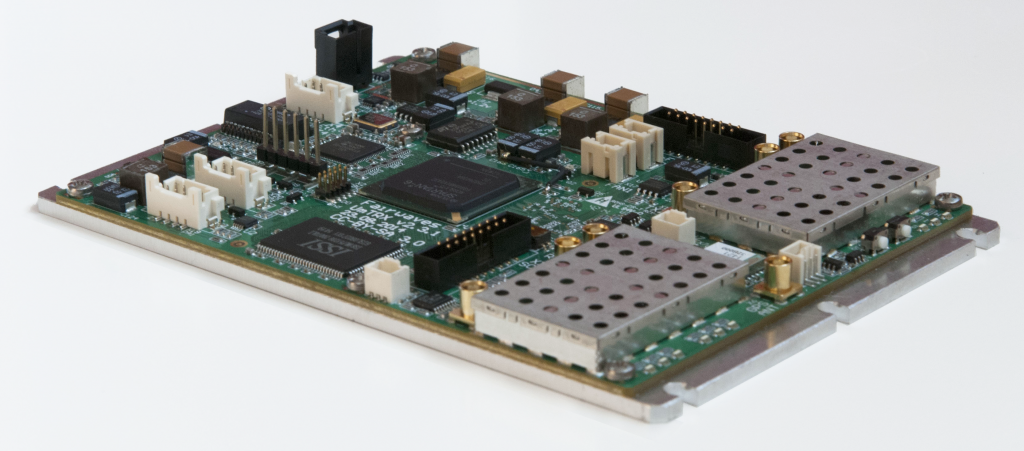 UmTRX 2.3.1 is a low-cost embedded SDR transceiver designed for telecom grade stability and reliability.
UmTRX 2.3.1 features two full-duplex RF channels which can run on any frequency from 0.3 to 3.8 GHz. It has small footprint, industrial temperature range and durability and is perfectly suited for applications which require high frequency stability of a GPS synchronized clock.

Field proven robustness UmTRX 2.3.1 is used in carrier-grade Fairwaves UmSITE base stations deployed in both Arctic and tropical climates, as well as in other industrial applications developed by our clients.
Long-term on-board GPS disciplined reference clock at no cost. Even the best Temperature Compensated Crystal Oscillators (TCXO) are subject to significant frequency drift due to aging and temperature variation. To keep your device within rigid telecom requirements for frequency stability (50ppb) you typically use an expensive GPS disciplined clock (GPSDO). With UmTRX you get it for free and save up to $900.
Reliable 1GB Ethernet allows a wide selection of motherboards. Modern 1GBE adapters can easily get you stable full duplex 900-950 MBPS throughput with no performance compromise when running TX and RX simultaneously. Ethernet is more suitable for industrial application than USB3 due its stability and connection resilience. USB3 also introduces significant bus latency degrading performance of high speed wireless standards like LTE.
---
UmTRX 2.3.1 Overview
Designed for long running applications
Carrier grade base stations
Radio protocol analysis for 2G, 3G, LTE and other wireless networks
Radio signal detection and measurement
Satellite and backhaul communications
Test bench and education equipment
Ready for Immediate Use
Easy to use UHD module driver
Supported by GnuRadio, SoapySDR, Pothos, Osmocom/OpenBSC, OpenBTS, OpenBTS-UMTS
Optimized for Industrial Embedded Systems
Reliable 1GB Ethernet interface
Remote control, including full power down
External RF front-end connector
Industrial-grade components
Pin head connectors
Wide input voltage range
Golden plated bottom side for good heat dissipation
Two temperature sensors and hardware overheat alarm/shutdown circuit
Meets GSM and UMTS BTS requirements
On-board GPS for <0.01ppm frequency accuracy and geolocation
Two independent channels (2 TRX)
Supports all cellular frequency bands
Single-ARFCN and Multi-ARFCN support
Compatible with Fairwaves UmSEL board for improved GSM receive selectivity
Hi-End and Feature Rich Design
Low noise synchronous DC power system
Regulated power supply for power amplifiers
PA output power and VSWR measurements
---
Technical Details
PCB Dimensions: 128 mm x 95 mm x 15 mm
Weight: 90 g board only / 225 g with aluminium plate
Environmental conditions:
-40 °C to +85 °C working temperature range
RF Output
PA pre-driver with P1dB = 20dBm
100mW @ 900MHz (per channel)
100mW @ 1800MHz (per channel)
Reference Clock

Onboard 26 MHz VCTCXO with 100ppb frequency stability (without GPS)
Onboard GPS for long-term <10ppb frequency stabilization (GPSDO function)
External clock 23-41 MHz and 1 PPS inputs/outputs to synchronize multiple boards and support different wireless standards
AD/DA and RF processing
Two LMS6002D single chip transceivers
300MHz to 3.8GHz tuning range
1 MHz to 28 MHz zero IF bandwidth
11.5-20.5 MSPS quadrature sample rate(13 MSPS with the onboard VCTCXO)
12-bit ADC/DAC
Power Amplifier controller
Two power amplifier control ports
DC/DC regulator 4.8V to 29.5V, up to 3A
ADC inputs for PA output power and VSWR sensors monitoring
Electrical Specifications
8-36V DC input
12W peak power consumption (without power amplifiers)
Up to 10W additional power consumption @ 100W power amplifiers (90% efficiency)
Onboard Peripherals
Temperature sensors for temperature based calibration
Overheat detector
Programmable DC/DC converter
GPS module with NMEA and 1pps
ADC for RF power and SWR sensors input
ADC for power system monitoring
External Interfaces
Gigabit Ethernet
External RF front-end control port
Two PA control ports
Remote control port
RS-232 debug port
Two fan connectors (1x constant speed, 1x temperature controlled)
FPGA
Software driver
UHD 3.8+ plugin
Rx/Tx DC offset and IQ imbalance automatic calibration
Software support
GNURadio, Pothos, SDRangeLove
Osmocom/OpenBSC, OpenBTS, OpenBTS-UMTS, OpenLTE, Amarisoft
any other software supporting UHD or SoapySDR drivers
---