UmVXO
UmVXO is a daughterboard for UmTRX SDR transceivers which allows you to change its reference clock, without soldering and with almost no impact on the UmTRX overall dimensions.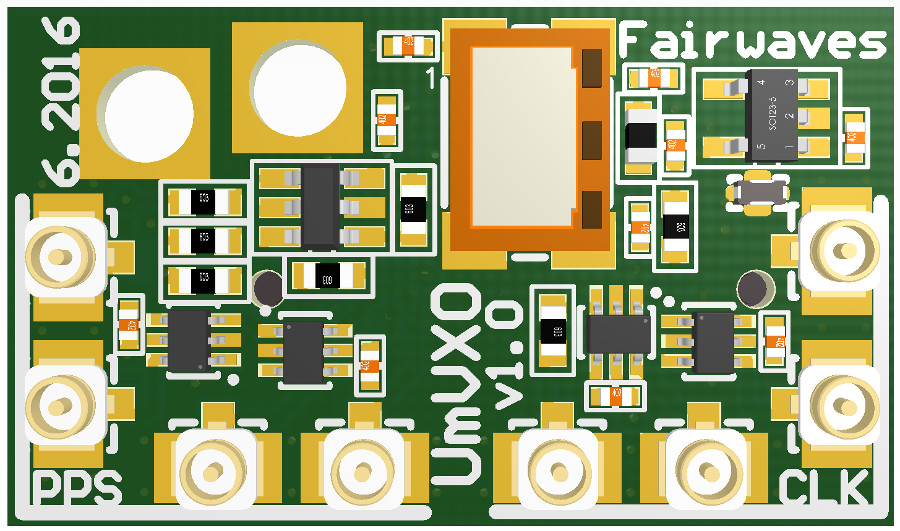 UmVXO features high quality temperature-compensated voltage-controlled crystal oscillator (TCVCXO) with the same parameters as the onboard UmTRX TCVCXO, but with a different frequency.
You can also synchronize clock and 1PPS signals of up to 4 UmTRXs with the single UmVXO to achieve up to 8×8 MIMO.
Hardware Features
Female plug for UmTRX v2.2 or v2.3.1 AUX RF connector
Onboard TCVCXO 30.72 MHz clock oscillator (20, 25, 26 and 40 MHz upon request), tunable from UmTRX (GPSDO function)
Four reference clock signal distribution outputs
1PPS synchronization signal distribution outputs
Ultra low noise LDO DC regulator for better possible specifications
Specification
| Parameter | Value |
| --- | --- |
| Physical dimensions | 29 mm x 17 mm x 7 mm |
| Power Supply voltage range | +5.5V typical, +4 to +6.5 V max |
| Power Supply current, w/o CLK loads | < 50 mA |
| Power Supply current, all CLK outputs loaded | < 200 mA |
| DC regulator noise | RMS - 9 uV |
| Power Supply supression ratio (PSSR) | > 40 dB (10 Hz to 4 GHz) |
| Output frequency | 30.72 MHz (20, 25, 26 and 40 MHz upon request) |
| Frequency stability | ±280 ppb (±0.28 ppm) at -40°C to +85°C |
| Tuning DAC resolution | 12 bit, 0 to 3.3V (~0.8 mV LSB) |
| TCVCXO Aging (20 years @+25°C) | ±3 ppm typical, ±4.6 ppm max |
| TCVCXO frequency tuning range | ±10 ppm typical, ±7 ppm min |
| Maximum Phase Noise (30.72 MHz) at 10Hz carrier offset | -85 dBc/Hz |
| Maximum Phase Noise (30.72 MHz) at 1kHz carrier offset | -130 dBc/Hz |
| Maximum Phase Noise (30.72 MHz) at 10kHz carrier offset | -135 dBc/Hz |
| Maximum Phase Noise (30.72 MHz) at 100kHz carrier offset | -140 dBc/Hz |
| RMS Jitter (12kHz to 20MHz BW) | ~ 1 pS |
| Logic level of outputs | LVCMOS 3.3V |
---